Interview Guidance
Job Seekers > Interviews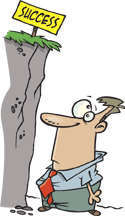 Prepare For Success
In order to even get to the interview step you need a professional looking resume and cover letter. The resume's purpose is not to get you the job; but, to get you an interview. Once you secure the interview it's time to do your homework and just like the Boy Scouts - Be Prepared.
Tips on Preparing For Interviews
Make a list of questions that you would like to ask during the interview. Pick questions that will demonstrate your interest in the job and the company. This might include commenting on the news you learned from the company website, and then asking a question related to it. Also ask questions about the job you will be expected to perform.

Be prepared. Remember to bring important items to the interview such as extra copies of your resume and a list of your references.
On the day of the interview plan your schedule so you arrive 10 to 15 minutes early, go by yourself, and look professional.
Display confidence during the interview.

End the interview with a good impression.

Don't forget to send a thank-you note or letter after the interview.