Bookkeeping Skills Testing
Job Seekers
Looking for a bookkeeper position or currently working as a bookkeeper, do you really have the necessary bookkeeping and computer skills ? You can answer this question by checking out my free Bookkeeping Skills Tests. Only wanting to test your bookkeeping knowledge. That's OK too. Why is Bookkeeping Skills Testing important ? Since almost anyone can claim to be a bookkeeper, this makes the task of an employer actually finding and hiring a qualified bookkeeper somewhat of a roll the dice proposition.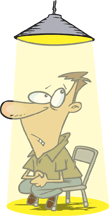 While interviews, credentials (degrees or certificates), background checks, and an applicant's prior work history are an important part of the hiring process, more and more employers are implementing pre-employment bookkeeping skills testing.
See what you know by checking out my Skill Tests with over 2,000 bookkeeping and accounting questions to help you assess what you know about bookkeeping and accounting.